The 42-year-old Scottish pilot spent 68 days on a ventilator, thought to be a longer stretch of time than any patient in the UK. He did so not in a hospital in his hometown of Motherwell, but in Vietnam's sprawling and hectic Ho Chi Minh City, with no close friends or family for thousands of miles.
Cameron, the last Covid-19 patient in an intensive care unit in Vietnam, has been the sickest doctors have had to deal with during the outbreak.
'10% chance of survival'
For much of Cameron's two-and-a-half months in a medically induced coma, he depended on an Ecmo machine, a form of life support only used in the most extreme cases, to survive. The machines extract blood from a patient's body and infuse it with oxygen, before pumping it back in.
"I'm lucky that the only lasting effect seems to be that my legs aren't yet strong enough to Doctors had to contend with multiple complications while Cameron was in a coma. His blood became extremely sticky leading to clots. His kidneys failed meaning they required dialysis and his lung capacity plummeted to 10%.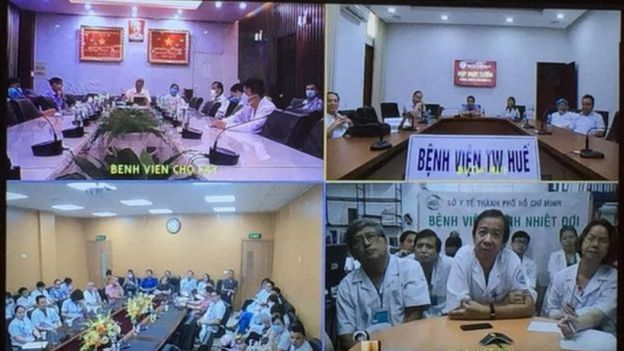 "When it came out in the press here that I needed a lung transplant, apparently loads of people offered their lungs, including a 70-year-old Vietnam war veteran," he smiles. "But it would have been a double lung transplant so that wouldn't have ended well for him."
Despite the outpouring of support from the Vietnamese people and the hundreds of thousands of dollars spent on Stephen Cameron's care, the reaction when he first tested positive for the virus was less welcoming.
The Buddha bar cluster
Cameron became ill only a few weeks after arriving in Vietnam in early February. Like many Western pilots, he'd headed to Asia to ply his trade for higher pay in the booming regional air travel industry. Two nights before he was due to pilot his first flight for Vietnam Airlines, and the night before most bars and clubs were set to shut in Ho Chi Minh City to contain the virus, he headed to meet a friend in an expat bar in an upmarket district of the city.
At the time, Vietnam had had fewer than 50 confirmed cases.
However, when he developed a fever, the day after his maiden flight, and 12 others at the bar tested positive in the days following, sympathy for him among locals was in short supply. The Buddha bar cluster, as it became known in the local press, was the single biggest outbreak of coronavirus in south Vietnam, infecting nearly 20 people both indirectly and directly.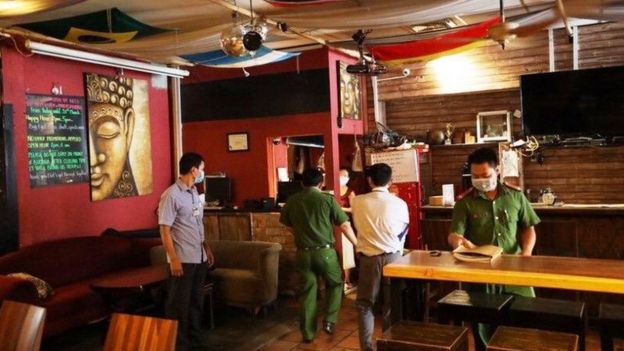 And for some on social media, Cameron, who had criss-crossed the city taking in the sights, was to blame.
"I was the first person to put my hands up and say: 'Look I don't feel well'. It was inevitable I would be blamed."
Rapid decline
On 18 March, Cameron was admitted to hospital after testing positive for the virus, and authorities moved swiftly to shut down the bar and quarantine everyone in his apartment building. In total, 4,000 people linked to the Buddha bar outbreak were tested.
"Patient 91's condition got worse very quickly," recalls Prof Luong Ngoc Khue, who serves on the Vietnamese health ministry's Covid-19 taskforce and advised on Cameron's treatment. "There was a worrying decrease in the function of not just his lungs, but his kidneys, liver and blood flow."
With his condition deteriorating, Cameron remembers taking the bold decision of asking to be ventilated. "I was exhausted as I couldn't sleep and I just thought: 'Oh, put me under and get it sorted'," he says. He was then comatose for weeks and weeks on end, as doctors agonised over his treatment. Meanwhile, the small number of other ICU patients in Vietnam recovered and went home.
Waking up was a 'blur'
When Stephen Cameron was first ventilated in early April, there were just over a million cases of coronavirus around the world. When doctors woke him up, on 12 June, there were in excess of seven million. But Vietnam had avoided the worst of the virus. There has not been a recorded case of community transmission since 16 April.
"I never thought it would take as long as 10 weeks to wake me up. I remember being roused, I remember getting my tracheotomy, I remember being wheeled through hospital corridors – and then the next few days are a blur."
From his recovery bed in a private room in Cho Ray Hospital on the other side of Ho Chi Minh City, where he was transferred after being taken off a ventilator and testing negative for the virus, Cameron is feeling the fallout of several months being motionless and severely ill.
He's lost 20kg (3.1 stone) and his muscles are so wasted it's an effort to swing his leg up even a few inches. He's also suffered from severe fatigue and depressive lows since waking up, in addition to the nagging fear that post-traumatic stress could be just around the corner.
'I need to get back to Scotland'
In the past few weeks, he's been visited at his bedside by not just a procession of doctors and nurses, but also high-ranking diplomats, government officials and politicians. Most recently, his hospital room played host to the British consul general and the chairman of Ho Chi Minh City's People's Committee.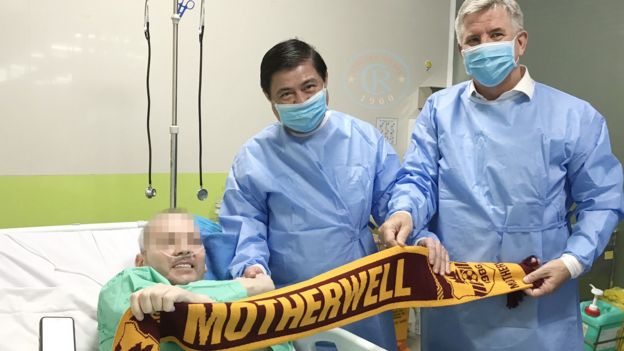 He recalls the mayor promising he'll "be back in England soon", before being swiftly corrected.
"I told him, if I get dumped in England, I won't be too happy," he jokes. "I need to get home to Scotland, it's 400 miles away."
Beating the odds
But his care hasn't come free. An Ecmo machine costs $5,000-10,000 (£4,000 – £8,000) a day to operate and he was reliant on one for eight-and-a-half weeks.
The ongoing wrangling over who will cover the costs are causing him stress and diverting attention away from his recovery. At first, the Hospital for Tropical Diseases paid out of its own pocket for his treatment. Then, it seemed the British embassy would intervene. His work insurance eventually covered the cost. But the funds for his stay in Cho Ray Hospital are still up in the air.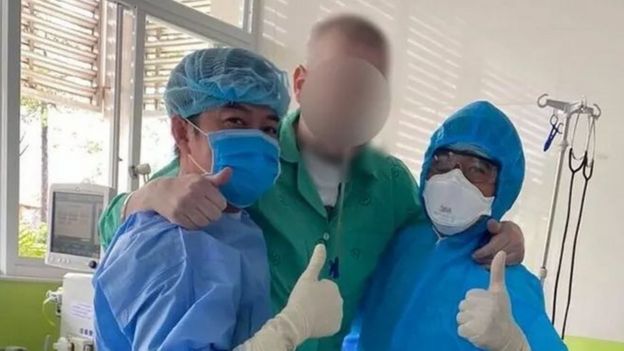 There's a place for Cameron on a Vietnam Airlines flight back to the UK on 12 July. Meanwhile, planes continue to shuttle Vietnamese nationals back from Europe.
The politics of his return are a reminder that the miraculous recovery of Patient 91 is not just a story of a Scottish pilot who recovered from Covid-19 and overcame the odds. It is the story of how a developing Southeast Asian country with a turbulent recent history beat the odds too.
Source: BBC